Top Indian sportsperson of 2016
Top Indian sportsperson 2016 – From the amount of newsprint and daily discussions dedicated to cricket, it is not tough to identify India's favorite sport! Even though hockey is the official Indian sport and football enjoys a fair degree of popularity, the Indian cricket team is the most loved, often despised and debated group of players in the subcontinent.
Aside from cricket, football and hockey – Indians follow lawn tennis, badminton, athletics, weightlifting and boxing. Sports like car racing and mountaineering are popular among the younger generation. Those interested in flexing their mental muscles avidly follow chess.
This interest in Sports is not a recent phenomenon, Indian sports date back to the Vedic Era. The Atharva Veda defines an oath for the sportsman – "Duty in my right hand and the fruits of victory in my left". Since ancient times, sports like Horse Riding, Wrestling, Archery and Athletics have always been very popular. Games like Polo, Chess and even Hockey are said to have their origin in India.
P V Sindhu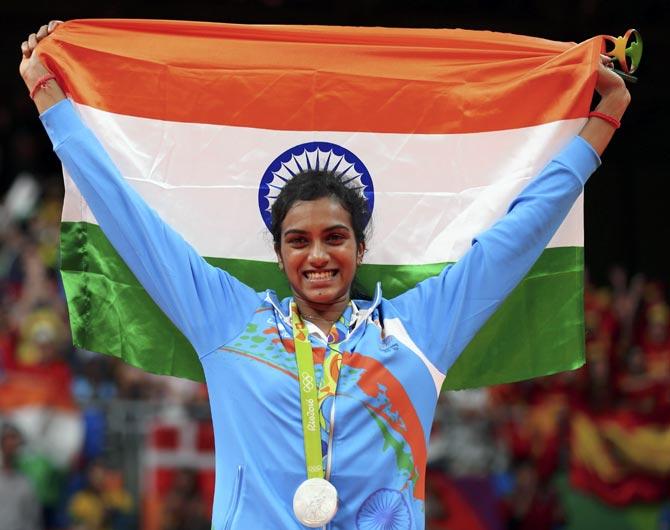 IMAGE: P V Sindhu celebrates after winning the silver medal at the Rio Olympics. Photograph: Marcelo del Pozo/Reuters
It was a landmark year for Sindhu, who is just 21.
And there was no better way to carve her niche than by becoming the first Indian woman to win a silver medal at the Olympics.
Sindhu continued her golden run in 2016 by winning the China Open in November, her maiden Super Series title.
She capped her successful year by reaching the semi-finals of her debut World Super Series Finals at Dubai after earning a spot in the final at the Hong Kong Open.
Sakshi Malik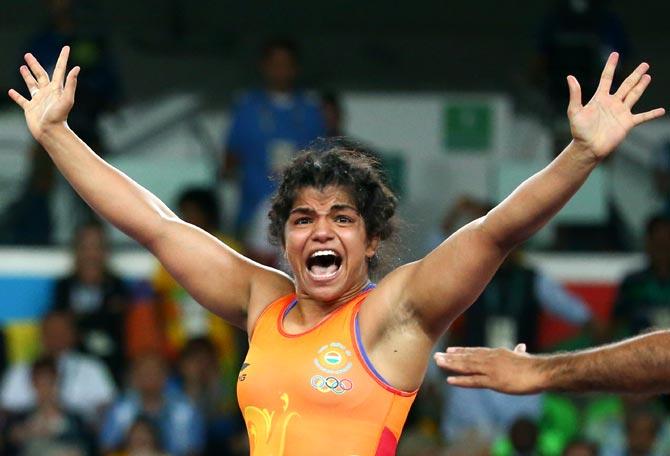 IMAGE: Sakshi Malik celebrates winning the bronze medal in Rio. Photograph: Ruben/Reuters
On the night of August 17, Sakshi Malik ended the country's painful wait for a medal at the Rio Olympics by clinching the bronze medal in the 58kg freestyle category, pulling off a sensational 8-5 victory over Aisuluu Tynybekova of Kyrgyzstan in the play-off bout.
Sakshi became the first Indian woman wrestler and only the fourth Indian woman athlete to win an Olympic medal.
The Haryana wrestler, who stormed into the bronze medal play-off match with a dominating 12-3 victory over Purevdorjiin Orkhon of Mongolia in her Repechage bout, fought back from 0-5 down in the first round to emerge triumphant.
The 24 year old, a silver medallist at the 2014 Glasgow Commonwealth Games and bronze winner at the 2014 Incheon Asian Games, was chaired by her coach Kuldeep Malik, as the duo did a lap of honour before she went down on her knees with the tri-colour wrapped around her.
Sakshi's feat covered up for the under-achievement of Indian wrestlers at the event with just one medal coming from a strong eight member team that had three women for the first time.
Deepa Malik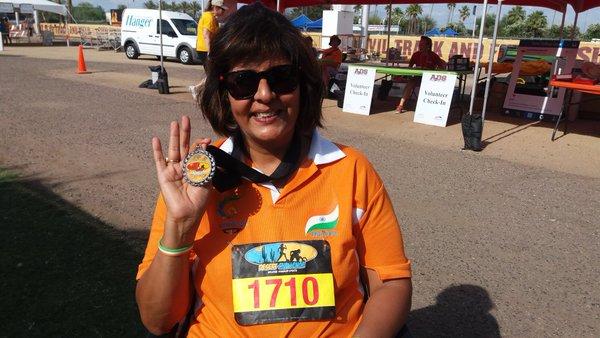 IMAGE: Deepa Malik celebrates after winning a medal. Photograph: Kind courtesy Deepa Malik/Twitter
Deepa Malik dared to dream and those very dreams she made possible.
Deepa became the first Indian woman to win a Paralympics medal, winning the F-53 shot put silver at the Rio Paralympic Games.
Her best throw of 4.61 metres from six attempts was enough to clinch the silver medal.
Deepa may have won gold, but for a mighty third throw of 4.76 metres by Bahrain's Fatema Nedham.
A paraplegic — paralysed from the waist down — the 45 year old was confined to the wheelchair 17 years ago after being operated for a spinal tumour.
She underwent 31 surgeries, which healed after 183 stitches between her waist and legs.
Deepa had won national and international medals in swimming, before switching to athletics in 2009.
Virat Kohli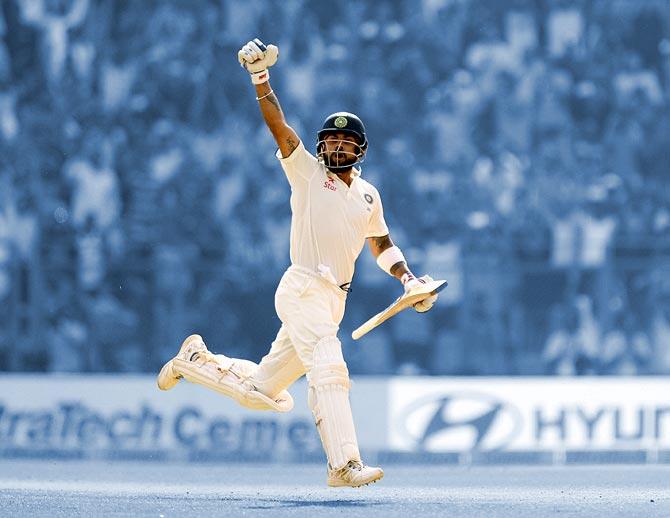 IMAGE: Virat Kohli celebrates his century during the fourth Test against England in Mumbai. Photograph: BCCI
India's Test skipper led from the front.
Under his captaincy, Team India went from strength to strength, and finished unbeaten in the year 2016.
Kohli showed the way as he amassed 1,215 runs in 12 Tests at an average of 75.93, including three double centuries, which were crucial in India's dominating showing at home against New Zealand and England.
In the series against England, he aggregated 655 runs at an average of 109.16 — the most for India in a series against England.
Under his captaincy, India won 2-0 in the West Indies followed by a 3-0 whitewash of New Zealand and a 4-0 rout of England in successive home series to extend their unbeaten streak to 18 — their longest sequence without suffering a defeat in Test cricket.
In the limited overs format too, Kohli was equally effective with the bat.
In ODIs, Kohli ruled supreme as he scored 739 runs in 10 games at an average of 92 with three centuries and four fifties.
In the T20 format, he started the year with three back-to back fifties to inspire India to a 3-0 whitewash of Australia and then played a big role in India's Asia Cup T20 victory in March.
In the World T20, he played a few outstanding innings, but India were outclassed by the West Indies in the semi-final despite Kohli's brilliant 89 not out from 47 balls.
Dipa Karmakar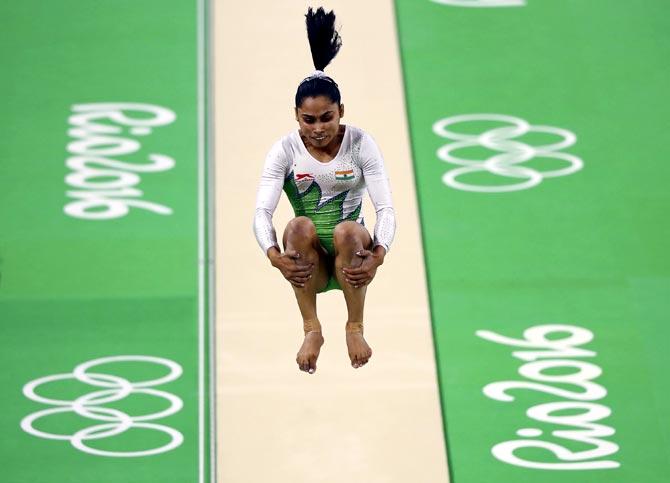 IMAGE: Dipa Karmakar at the Rio Olympics. Photograph: Mike Blake/Reuters
Her death defying Produnova vault brought Dipa much deserved recognition at the Rio Games.
The girl from Tripura created history by becoming the first Indian woman gymnast to qualify for the Olympics after 52 long years.
The 23 year old scored an average of 15.066 points, a mere 0.15 less than eventual bronze medallist Giulia Steingruber (15.216) of Switzerland.
Her efforts won her the Rajiv Gandhi Khel Ratna, India's highest sporting honour.
Ravichandran Ashwin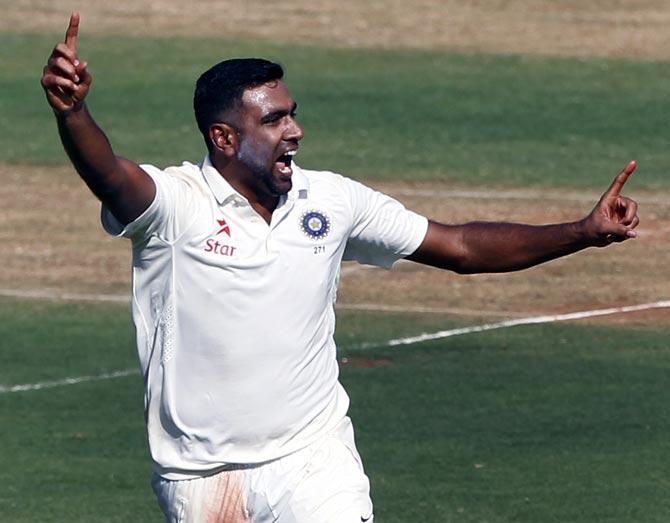 IMAGE: Ravichandran Ashwin celebrates a wicket during the Mumbai Test against England. Photograph: BCCI
A year in which Ashwin not only enhanced his reputation as the best spinner in world cricket, but also cemented his place as the No 1 all-rounder in Test cricket.
ICC Cricketer of the Year, Ashwin scored a remarkable 612 runs and took 72 wickets in 2016, playing stellar roles in India's victories over the West Indies, New Zealand and England.
The Tamil Nadu off-spinner claimed a whopping 8 5 wicket hauls and 3 10 wicket match hauls in the year — a new record for an Indian.
Ashwin's promotion to No 6 under new coach Anil Kumble saw him prosper as a batsman too as he finished as the fourth most successful Indian batsman in Tests in 2016, behind specialist batsmen Virat Kohli, Cheteshwar Pujara and Ajinkya Rahane.
The all-rounder did the double of 5 wicket haul and a 50 in the same Test twice in the year, while in the two back to back series against New Zealand and England, he finished with more than 25 wickets.
Vijender Singh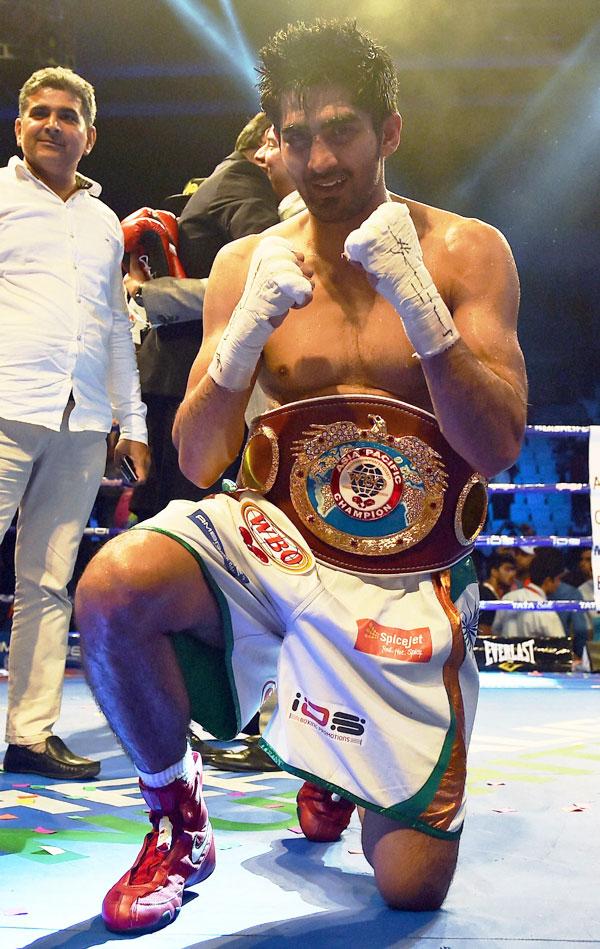 IMAGE: Star boxer Vijender Singh celebrates beating Australia's Kerry Hope to win the WBO Asia Pacific Super Middleweight Championship at the Thyagaraj Sports Complex in New Delhi, July 17, 2016. Photograph: PTI
India's Knockout King' continued to make waves in Pro Boxing.
The Olympic bronze medallist knocked out Francis Cheka in the third round of the WBO Asia Pacific Super middleweight title bout in December to extend his unbeaten run in pro boxing to 8-0.
Vijender emerged victorious in his five bouts in Pro boxing in 2016.
He started the year with a knockout victory over Alexander Horvath of Hungary in March before successfully getting the better of Frenchman Matiouze Royer in his next bout a month later.
Vijender featured in his first 8 round bout in May against Poland's Andrzej Soldra, but his opponent could not go past the third round.
Australian Kerry Hope proved to be a tough nut to crack, but Vijender ensured he emerged victorious in his first pro boxing bout before home fans in New Delhi.
Vijender beat Hope 98-92, 98-92 and 100-92 in a close contest to win the WBO Asia Pacific super middleweight title fight before successfully defending the title against Cheka to keep his winning run going.
Pankaj Advani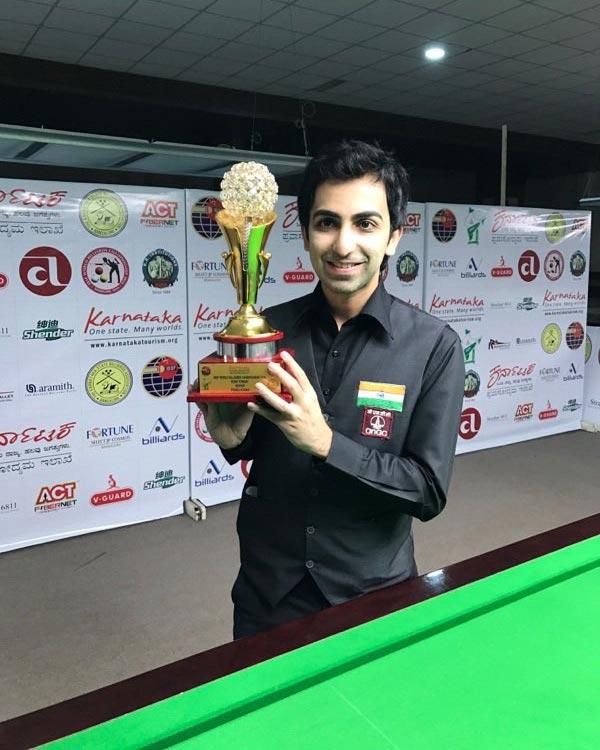 IMAGE: Pankaj Advani celebrates winning the World billiards title in Bengaluru, December 13, 2016. Photograph: Kind courtesy Pankaj Advani/Twitter
Cue magician Pankaj Advani was another consistent performer in 2016.
Advani won the World billiards title in the short format to take his overall tally to 16. He outclassed multiple world champion Peter Gilchrist in the final (150-up format) at home for his only major title of the year.
In May, Advani had created history by winning his first ever Asian 6-red snooker title in Abu Dhabi and became the first in the world to hold both world and continental titles in 6-red snooker at the same time.
The 31 year old also became the first Indian cueist to win a medal at the prestigious Sangsom 6 Red Snooker World Championship after taking the bronze following his semi-final loss to Chinese Ding Junhui in Bangkok in September.
P R Sreejesh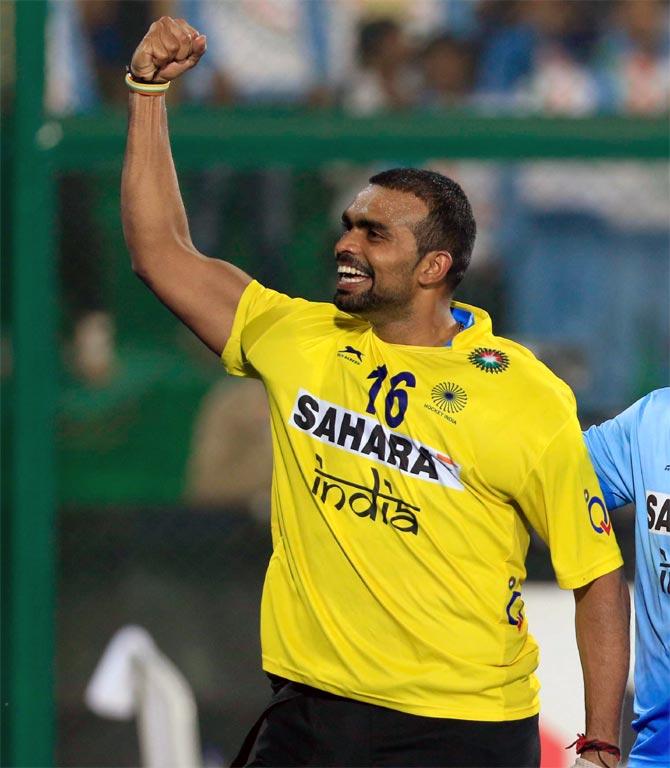 IMAGE: India goalkeeper P R Sreejesh. Photograph: Hockey India
Captain Sreejesh was the standout performer in a good year for Indian hockey in 2016.
India claimed a historic silver medal in the Champions Trophy under Sreejesh, who took over the captaincy after Sardar Singh was left out of the London-bound squad.
Sreejesh infused a new-found belief in the team as they won the silver medal for the first time in 38 years, after going down to Australia in a controversial penalty shootout in the final.
The Indians put in some impressive performances in the league stages at the Rio Olympics before their dreams of an Olympic medal were crushed in a 1-3 defeat against Belgium in the quarter-finals.
Sreejesh brought the smiles back for the Indian hockey fans as he played a stellar role in front of goal to help India outclass South Korea via a penalty shootout in the Asian Champions Trophy hockey tournament in October.
In the final, India got the better of arch-rivals Pakistan 3-1 to win the Asian Champions Trophy for the second time.
Sreejesh also played a key role in India's Junior Hockey World Cup triumph as he worked with goalkeeper Vikas Dahiya during the tournament, who emulated his mentor by carrying India to victory against Australia in the penalty shootout in the semi-finals.
Sreejesh, who was recovering from a knee injury, spent nearly a month with the India junior goalkeepers and his presence in the squad turned out to be a big help in the end.
Aditi Ashok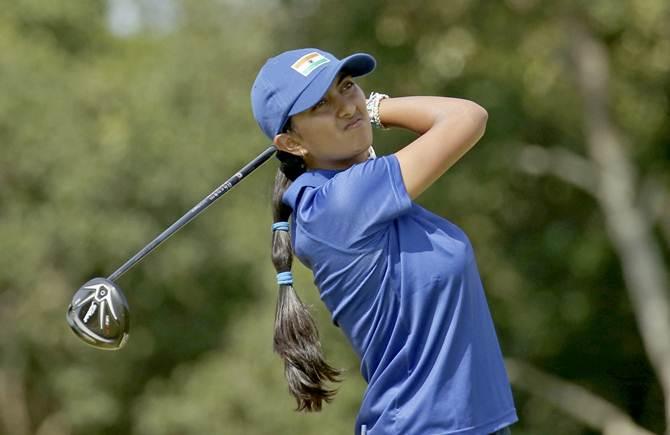 IMAGE: Golfer Aditi Ashok in action. Photograph: Andrew Boyers/Reuters
While the nation watched P V Sindhu script history in Rio, another Indian girl was quietly going about her job at the Olympics.
That was golf teen sensation Aditi Ashok, who owned the year befitting of a champion.
She turned into an overnight star after she grabbed the lead for a brief period at the Rio Olympics.
After making her professional debut at the Australian Oates Victorian Open, Aditi soon posted four consecutive top 10 finishes on the LET.
Aditi, 18, was fittingly named the Ladies European Tour's Rookie of the Year for becoming the first Indian to win two back-to-back titles in her first year on the tour.
She became the first Indian woman to win on the European Ladies Tour when she clinched the Women's Indian Open title in Gurgaon and then picked up a second title two weeks later at the Qatar Ladies Open to finish the season second on the Order of Merit.
Aditi also achieved partial playing rights on the LPGA after finishing tied 24th in the qualifying tournament at Florida.
Sania Mirza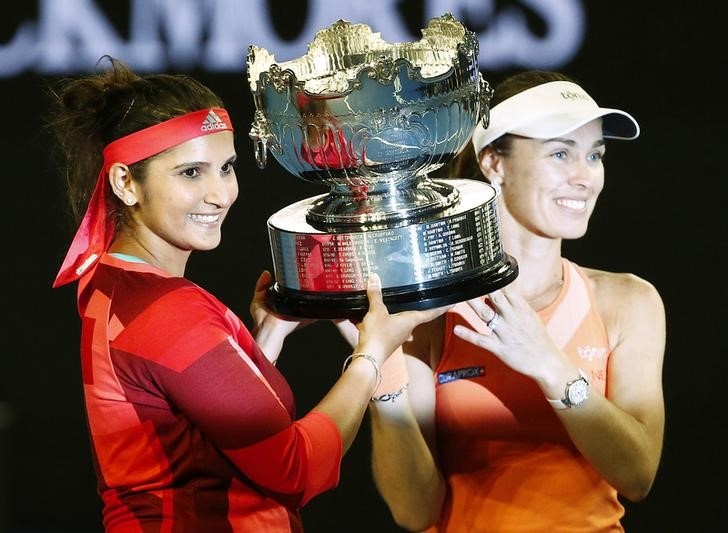 IMAGE: Sania Mirza and Martina Hingis pose with the trophy after winning the women's doubles final at the Australian Open. Photograph: Thomas Peter/Reuters
It was another year of major successes for Sania Mirza.
The World No 1 doubles player stayed atop the WTA doubles rankings for 84 consecutive weeks.
Sania started the year with a bang as she clinched the doubles title at the Australian Open with Martina Hingis in January to complete a hat-trick of Grand Slam titles, having triumphed at Wimbledon and the US Open last year.
Sania and Hingis went on a 41-match unbeaten streak, which started in September last year, before the winning run was halted in the quarter-finals of the Qatar Open in February.
Even though she parted ways with Hingis, she maintained her dominance with Barbora Strycova, winning three tournaments and finishing a finalist in another.
Sania came close to a historic Olympic medal along with Rohan Bopanna as the Indian duo were edged out by Americans Venus Williams and Rajeev Ram in the semi-finals of the mixed doubles in Rio, before losing the bronze medal play-off match against the Czech Republic's Radek Stepanek and Lucie Hradceka.
Leander Paes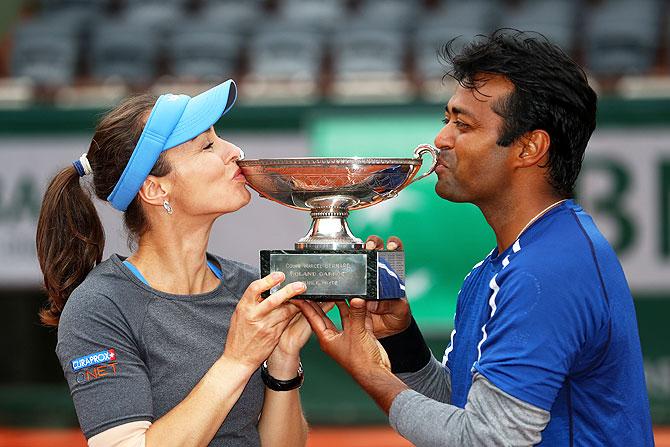 IMAGE: Martina Hingis and Leander Paes kiss the trophy after winning the 2016 French Open mixed doubles title. Photograph: Julian Finney/Getty Images
Individually, it was another good year for Leander Paes, who continues to thrive despite his age.
The 43 year old added another Grand Slam title to his already impressive CV as he won the French Open with Martina Hingis which also saw him complete a career Slam in the mixed doubles.
In the Davis Cup, along with Rohan Bopanna he outclassed Hong Chung and Seong-chan Hong of South Korea to inspire India to a 4-1 victory, but the duo disappointed big time at the Rio Olympics as they bowed out in the first round.
Paes and Sam Groth finished runners up at the Busan Open in May and the Torneo International Challenger before he and new partner Andre Begemann made it to the finals of the Tashkent Challenger, St Petersburg Open, Thindown Challenger and the Winston-Salem Open tournaments.